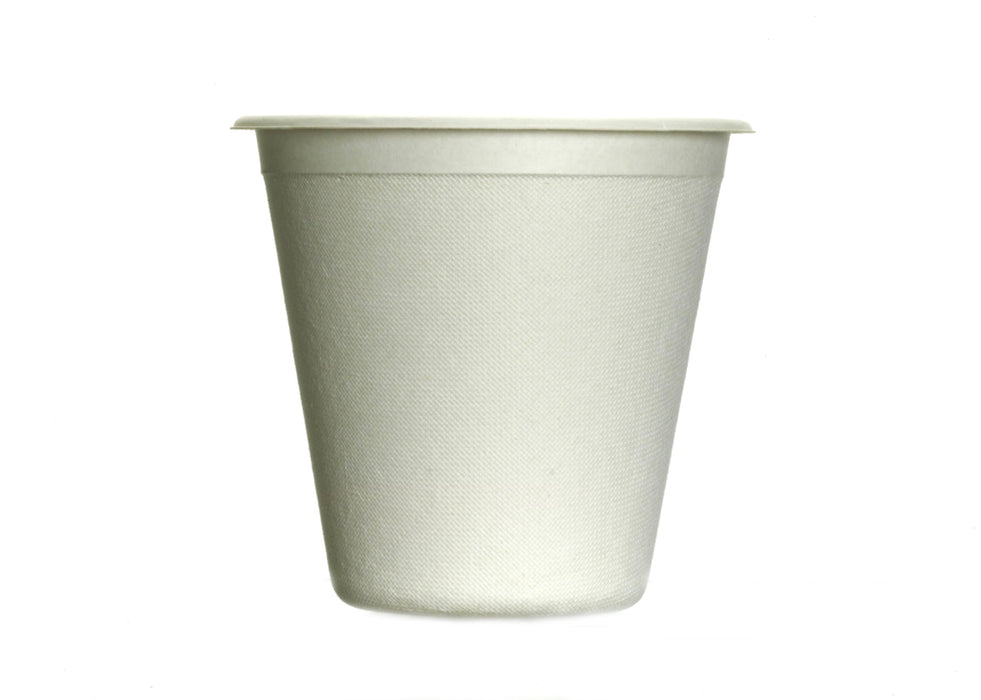 100% Compostable Plant Fibre Tumbler 260ml - Reed Pulp
Orders placed by 2pm Mon-Fri will be dispatched same day.
SELECT PACK SIZE BELOW
Unfortunately, there is no type of 'biodegradable plastic' that disappears like an apple core or a banana skin. If you leave a PLA plastic cup on the ground or in the sea, it will remain there for years, just like ordinary plastic. Similarly, an 'oxo-biodegradable' plastic cup will appear to break down, but remain as plastic sludge - an arguably worse source of pollution.

Therefore, if you want the convenience of a disposable cup but want to go plastic-free, this cup is the way to go. It may not be transparent but, being made from plant fibre, it is the only disposable cup that is genuinely non-polluting.

Additionally, this cup is the only cup that you can compost at home. How long that takes will depend on the conditions. It is expected that it should break down in the same timescale as woody plant material (1-2 years) but keen gardeners will know that a hot and wet compost heap will break down plant fibre very much s Thus, the compostable plant fibre cup is the most practical and eco-friendly solution due to its zero-pollution, quick bio-degradability, and complete compostability sooner than that.
Specifications 
Material Sugar Bagasse (Reed Pulp)
Dimensions Width: 82mm :: Height: 90mm
Capacity 260ml :: 8floz
Food & Drug Approved
Biodegradable
Printable
Printing 
These glasses can be printed. Please get in touch for a bespoke quote.
For more information on the printing process visit our Printing Page
Delivery 
Delivery Information
Typical delivery if ordered before 2pm.
Standard Mainland UK delivery 2-3 working days
Remote UK & Non Mainland Delivery 3-5 working days
European Delivery 5-7 working days