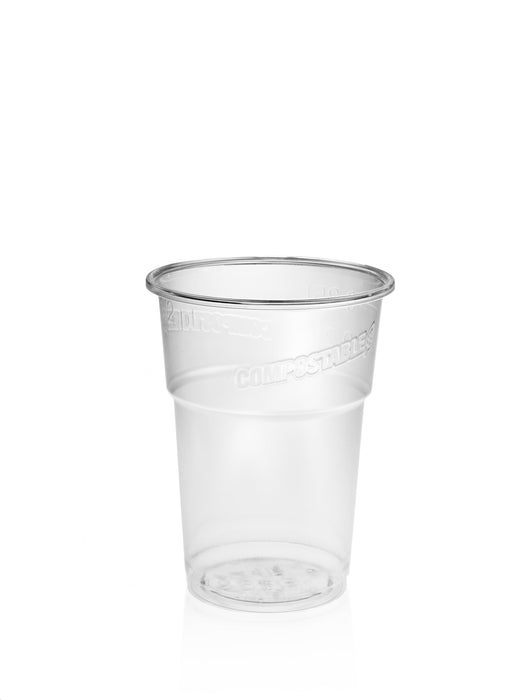 Clear Compostable Plastic Half Pint Glass 300ml- PLA CE Stamped To Rim
Orders placed by 2pm Mon-Fri will be dispatched same day.
SELECT PACK SIZE BELOW
This half pint glass is made from a plant-derived plastic called PLA. 
Although PLA does not biodegrade fast enough in the natural environment to solve our litter problem, its key benefit is its plant-derived sustainability.  Additionally, it is claimed that plant-based plastic has a 75% smaller CO2 footprint over traditional plastic over its whole life cycle.
This means that, in places where recycling of traditional plastic is difficult, these cups are the better choice for the planet.
This new generation of compostable cups has these great features:
• Better PR: With 'compostable' embossed on the side, it makes it clear that it is not a traditional plastic cup, while remaining ink free;
• Better pricing: These cups are significantly cheaper than early PLA, and ever more competitive with high quality traditional plastics;
• Better quality: These cups are as strong, clear, flexible, and highly comparable with cups made from PET.
This product is compliant with British/European standard BS EN13432. A certificate of confirmity is also available on request.
Specifications 
Material PLA
Rim Diameter 78mm
Height 103mm
Brim Capacity 300ml / 10oz
Lined At 0.2l, 0.25l
Pack Size 1250: 25 sleeves of 50
Cases/Pallet 24
Carton Dimensions 403 x 403 x 411mm (WDH)
Carton Gross Weight 7.2kg
Durability Single use (do not recycle)
Printing 
These glasses can be printed. Please get in touch for a bespoke quote.
For more information on the printing process visit our Printing Page
Delivery 
Delivery Information
Typical delivery if ordered before 2pm.
Standard Mainland UK delivery 2-3 working days
Remote UK & Non Mainland Delivery 3-5 working days
European Delivery 5-7 working days