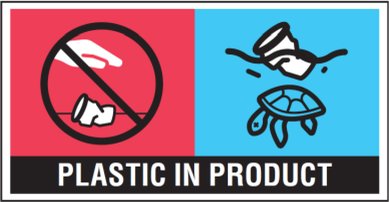 Plastic in Product- SUPD Logo
You may see some of our wonderful products with either a print or embossed logo if the items are made in the EU, this is down to the Single Use Plastic Directive (more info below). We understand this may alter the pristine look of the glass but the logo is mandatory.   
The Single-Use Plastic Directive (EU) 2019/904 was published in June 2019. The Member States must apply these measures no later than 2 years after the entry into force of the Directive (i.e. by July 2021). The new law, is also known as the single-use plastics (SUP) Directive, aims to prevent and reduce the impact of certain plastic products on the environment, in particular the aquatic environment, and on human health.

It will impact plastic food-contact materials and articles through, among others, a ban on certain single-use plastics, introduction of marking requirements, increased collection goals for plastic packaging, extended producer responsibility schemes, and design requirements for beverage containers.

There will be EU wide market restrictions or ban on the placing on the market of certain single-use plastics, which applies to 
cutlery, plates, beverage stirrers, straws, balloon sticks and cotton bud sticks, and
cups, food and beverage containers made from expanded polystyrene. 
In addition, the placement on the market of any SUP made from oxo-degradable plastics (oxo-plastics) will be banned. The Commission makes a necessary and clear distinction between biodegradable plastics and oxo-degradable plastics, the latter of which cannot be considered bioplastics.